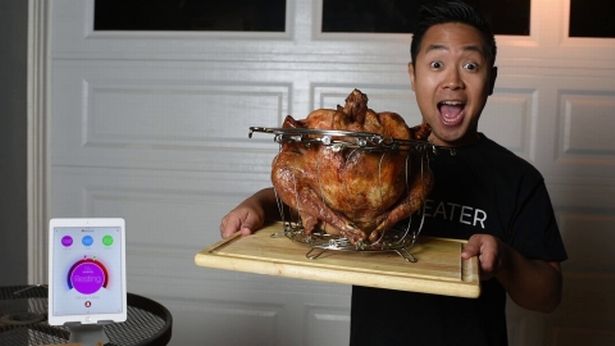 Leicester-based, Apption Labs, has been acquired by US barbeque maker, Traeger Grills. Apption Labs is the company behind the award winning wireless smart meat thermometers, MEATER.
MEATER was awarded two 2021 Queen's Awards for Enterprise for Innovation and International Trade, as well as having recently won the 2019 LeicestershireLive Innovation Award. The smart thermometer links wirelessly to a phone or smart watch and shows how long your chicken or roast joint needs to cook.
Apption Labs was launched in 2015 by Teemu Nivala, Joseph Cruz, and Dauson Chang raising £3 million from crowdfunding campaigns. It is headquartered in Leicester, with offices in Los Angeles, CA, USA and Hsinchu, Taiwan.
MEATER will continue to operate as a standalone company within Traeger Grills and its current management team of Teemu Nivala, Joseph Cruz and Wen Nivala will all continue in their current posts.
Joseph said: "Our product complements and enhances Traeger's connected grilling experience and joining forces with a market leader in outdoor cooking was something we're extremely excited about.
"Together with Traeger, we believe there is much yet to be explored in the realm of connected cooking, and we're thrilled by the notion of pushing forward to discover and develop new innovations."
The principal shareholders of Apption Labs were advised on the deal by BHW Solicitors, led by Corporate Partner Matt Worsnop.
Matt said: "BHW has been lucky enough to work with the Apption Labs since their early days. The MEATER product is at the cutting-edge of smart cooking technology and Teemu, Joseph, Wen and the team at Apption Labs are at the forefront of innovation in the smart-tech industry. It is no surprise a global player like Traeger has sought to acquire them."
Headquartered in Salt Lake City, Utah, Traeger specialises in outdoor cooking technology and the acquisition of Apption Labs' MEATER product, expands its portfolio of home cooking devices. The $550 million turnover business recently filed for an IPO on the New York Stock Exchange.
Discussing BHW, Teemu said: "It has been of huge benefit to have Matt and the legal team at BHW supporting us on this deal. It is obvious that Matt has a superb understanding of the tech industry and the unique consideration that brings in a deal like this. Coupled with his commercial knowhow, we have been able to conduct a deal that will allow the MEATER product to flourish and give us an unrivalled base for future innovation."