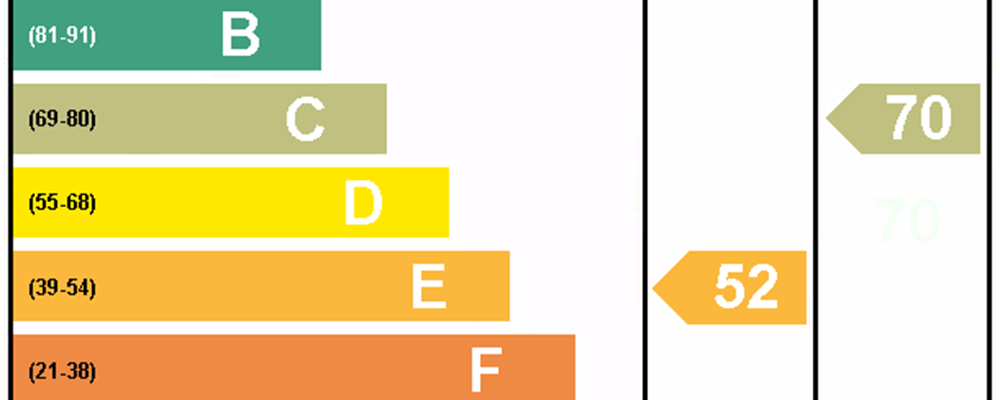 Energy Performance Certificates (EPCs) are mandatory for property owners looking to sell or let a property. EPCs measure energy efficiency and demonstrate to prospective buyers/ tenants that the relevant property meets the minimum energy efficiency standard set by the Government. However, there are a few instances where a property may be exempt from requiring an EPC.
What is an EPC?
EPCs issue a rating ranging from the lowest 'G' rating to the highest 'A' rating and are valid for ten years from the date of issue. EPCs are an accurate reflection of a property's energy efficiency. The intention of the EPC regime is to improve energy efficiency and to tackle climate change generally. From 1st April 2018, landlords of privately rented domestic and non-domestic property must ensure their property has a rating of E or better before granting new tenancies, or face penalties for non-compliance.
The penalty varies depending on the type of property. For domestic properties the penalty is £200. For non-domestic properties the penalty is a sum equivalent to 12.5% of the property's value, subject to a minimum of £500 and a maximum of £5,000. Where this cannot be applied, a default penalty of £750 is issued.
EPC Exemptions
Instances in which EPCs are not required are listed below:
building is listed or officially protected and the minimum energy performance requirements would unacceptably alter it;
a temporary building only going to be used for 2 years or less;
residential building that will be used for less than four months of the year;
building used as a place of worship or for other religious activities;
an industrial site, workshop or non-residential agricultural building that doesn't use much energy; and
building due to be demolished by the seller or landlord.
EPC Exemption for a Listed Building
For an owner of a listed building, the exemption status is crucial. Most listed buildings are built pre-1900 meaning they are unlikely to pass the energy efficiency standard. It may be very difficult for owners to acquire an EPC rating of E or higher because the requisite alterations to obtain the rating, such as double glazing or new walls, can affect the historical value of the property.
If alterations are needed you must assess whether the works would 'unacceptably alter' the property's character/ appearance. If this is the case you will more than likely be entitled to the exemption. If not, you must carry out the works and obtain the requisite EPC rating of E or higher.
EPC Exemption for a Building Due to be Demolished
EPC ratings of E or higher are not required on sale or rent of buildings due to be demolished. The seller/ landlord should be able to demonstrate the following:
the building is to be sold or let with vacant possession;
the building is suitable for demolition; and
they believe that a prospective buyer or tenant intends to demolish the building.
EPCs must be ordered before marketing a property to sell or rent so it is important for a seller/ landlord to assess their position prior to entering into the transaction.
BHW regularly advises Landlords and Tenants on commercial property transactions. For further information or advice contact BHW's Commercial Property department on 0116 289 7000 or email info@bhwsolicitors.com.