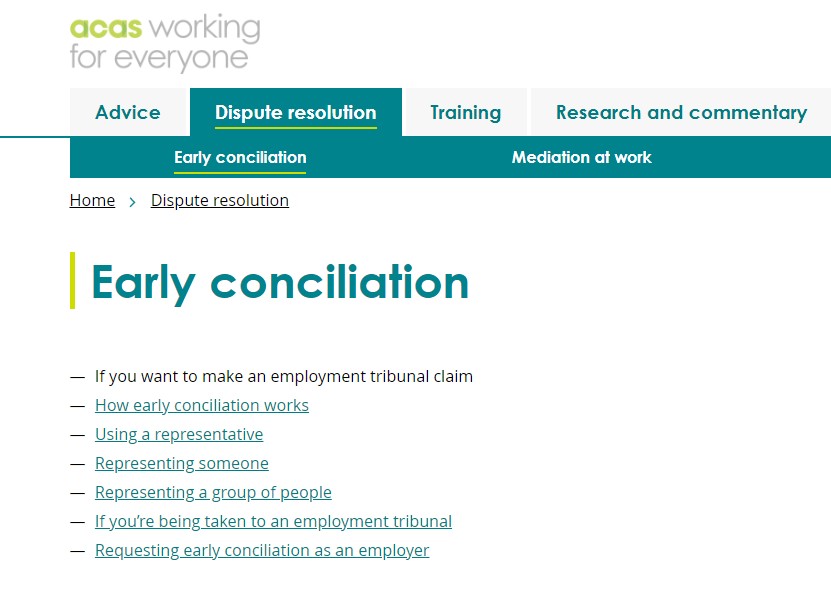 The rules on early conciliation have recently changed, following an amendment to existing legislation by the Employment Tribunals (Constitution and Rules of Procedure) (Early Conciliation: Exemptions and Rules of Procedure) (Amendment) Regulations 2020.
The change means that the early conciliation process will take a standard six weeks in each case, rather than a period of one month with a possible two-week extension. The new rules came into force on 1 December 2020.
What is early conciliation and why do I need to know about it?
ACAS states that employees should attempt to informally resolve any issues with their employer before bringing a claim. First, because it may find a solution for the parties immediately, and second, if this is not done, a tribunal may take it into account when calculating any compensation payable.
If an employee still wishes to bring a tribunal claim, they must first inform ACAS of their intention to do so. At this point, ACAS will offer the employee and the employer "early conciliation". Essentially, this is a period of mediation whereby an ACAS conciliator will act as an intermediary between the employee and employer and try to resolve their problems. While early conciliation is taking place, the employee's time limit to bring a claim is extended.
Some of the benefits of early conciliation, as highlighted by ACAS, include: –
it's free;
it's confidential;
it offers a quicker resolution to an issue than a tribunal;
there is less paperwork to consider;
both the employee and employer enter the process voluntarily; and
the parties are in control of the outcomes.
The new legislation can be found here: – https://www.legislation.gov.uk/uksi/2020/1003/contents/made
Further ACAS guidance on early conciliation can be found here: – https://www.acas.org.uk/early-conciliation
If you are an employer and have any questions, or need assistance with early conciliation or the tribunal claims process, then please don't hesitate to contact a member of our Employment Law Team on 0116 289 7000 or email info@bhwsolicitors.com.
NB: We can only confirm that this update is accurate at the date of publishing.