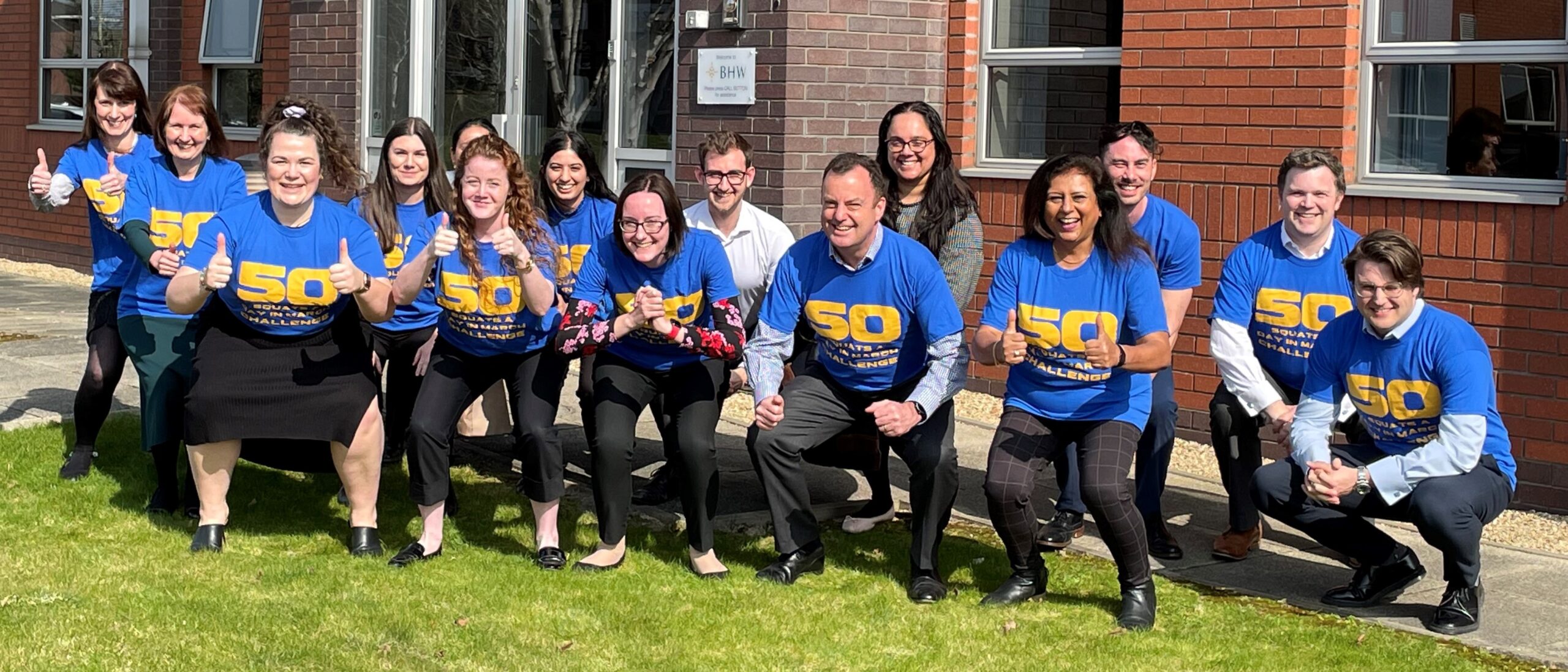 23 intrepid participants from across the firm have been taking on the challenge to complete 50 squats every day for a month. The team are all aiming to complete over 1500 squats each by the end of March in aid of the Leicester Hospital's Charity.
BHW team organiser, Gurpinder Ghuman, said: "This is proving to be an extremely tough challenge! Managing to complete 50 squats every day for an entire month is a huge commitment, let alone getting through the physical pain each day. Despite this, the number of people at BHW wanting to give it a go has been phenomenal".
As well as raising vital funds for the Leicester Hospitals Charity, the team will all be hoping to reap the additional benefits of completing such a physical challenge including increased fitness, flexibility, and lower body strength.
Gurpinder added: "We are over halfway through the challenge now and I know everyone is starting to feel the effects. The team is rallying around each other to offer encouragement and i'm sure everyone will be able to keep going to the end of the month to support the charity".
The Leicester Hospitals Charity aims to enhance the services, care and environment in the three hospitals in Leicester; Leicester General Hospital, Glenfield Hospital and the Leicester Royal Infirmary.
The full team taking part in the 50 squat challenge are Rosie Allen, Isabelle Bastian, Claire Cockram, Cameron Connolly, James Dent, Verity Drinkall, Ann Ghaghda, Gurpinder Ghuman, Alison Harrod, David Hickling, Raj Hundal, Aimée Johns, Claire Kellock, Steve McElhone, Molly Mcloughlin, Beverley Merrell, Michelle Newman, Ed Nurse, Eleanor Rattay, Beena Sakaria, Symrit Sidhu, Will Sperry, and Lucy Ward.
You can support the team by donating via their Just Giving page here: BHW's 50 Squat Challenge for Leicester Hospitals Charity (justgiving.com)
Your donation really can make a significant difference to how people feel, how well they respond to treatments and how quickly they recover. The smallest gift really can help so please, support our fantastic fundraisers and help them raise as much money as possible.