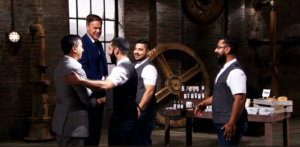 BHW Solicitors have been instructed by the entrepreneurs behind the headline-hitting Mo Bro's. BHW Partner and Head of the Corporate & Commercial Department Ed Nurse is advising the three Leicester-based brothers on the deal for a £150,000 investment secured on the BBC2 programme Dragons' Den.
Keval Dattani, Kunal Dattani and Savan Dattani hit the headlines on Boxing Day as they pitched their brand, Mo Bro's, to five of the best business minds in Britain. Their slick pitch saw them seal the largest investment in the last two series from Dragons Peter Jones and Tej Lelvani. Having received multiple offers from four of the five Dragons, the brothers settled on this £150,000 investment for 20 percent of their business.
The investment proposed by the Dragons is a long way from the £750 the brothers used to start their beard grooming business just three years ago. Launching with one product and no external funding in 2014, Mo Bro's has expanded its product range and sold to over 200,000 customers around the world. Before the show, they were forecast to hit an already impressive £1.6 million turnover for 2017-18.
Describing the impact of the deal, Keval Dattani said, "It will enable doors to open that we wouldn't be able to open alone, and allow us to expand much quicker on an international scale, which is part of our business growth plan."
BHW's Ed Nurse said, "We are excited to have been approached by the brothers to assist in the next stage of their business journey. Being on a path of growth ourselves, our businesses are well aligned and we can understand the issues and questions they may have while providing the very best legal advice."
BHW Solicitors have been able to assist the brothers in structuring an appropriate deal and provide advice around the necessary legal and contractual requirements for the investment.
On choosing to work with BHW, Kunal added, "We came across BHW Solicitors as a fellow Leicester based business and felt they fit the profile of the type of law firm we would like to work with. The advice we have received from Ed Nurse has been excellent, it was clear he understood our vision from the outset and we'd highly recommend him."