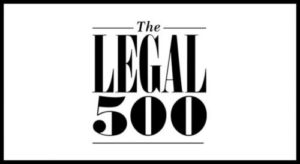 Independent Leicester-based law firm, BHW Solicitors, has once again been ranked toe-to-toe with the East Midland's legal industry heavyweights in the 2023 Legal 500 guide.
The specialist commercial law firm's rankings reflect the tremendous breadth of work it is entrusted with by an ever-growing client base of local business stalwarts and national household names.
The Firm has had its most successful listing ever with 5 departmental rankings and 12 individual lawyer recognitions for their standout contribution to their respective practices.
The most notable achievements are its Commercial Property department which has been promoted to the top Tier 1 status in the latest guide, while its Corporate/Commercial department has maintained its Tier 1 ranking for the fifth year in a row.
The Commercial Litigation department has achieved the fantastic feat of Tier 2 status in its first ever listing. Commercial Litigation head, Paul Davis, also achieved his first Recommended status.
Head of Corporate/Commercial, Ed Nurse, and Corporate Partner, Stephen McElhone, once again retained the highest accolade of Leading Individual and Corporate/Commercial Partner, Alex Clifton, received the Next Generation Partner award.
BHW's Commercial Property team received its highest number of Recommended lawyers, with no fewer than 5 individual listings including Eleanor Rattay awarded Next Generation Partner, and Kate Burlinson and Raj Hundal added as Recommended lawyers.
BHW was also ranked for its IT & Telecoms and Employment services, including Employment Solicitor, Aimee Johns, awarded Rising Star.
The Legal 500 is the leading independent guide to the UK's legal industry. It conducts an extensive research regime and holds thousands of interviews with law firm clients, lawyers, and professional contacts, to rank the best law firms and solicitors across the Country.
The following is a full list of BHW's 2023 Legal 500 rankings for the East Midlands:
Corporate & Commercial – Tier 1
Ed Nurse – Leading Individual
Stephen McElhone – Leading Individual
Matt Worsnop – Recommended
Alex Clifton – Next Generation Partner
Commercial Property – Tier 1
Beverley Merrell – Recommended
Ian Sanders – Recommended
Eleanor Rattay – Next Generation Partner
Kate Burlinson – Recommended
Raj Hundal – Recommended
Commercial Litigation – Tier 2
Employment – Tier 4
Amanda Badley – Recommended
Aimée Johns – Rising Star
IT & Telecoms – Tier 3
Matt Worsnop – Recommended
Categorised in: Commercial Property, Corporate and Commercial, Dispute Resolution, Employment, IT & Telecoms, Leicester Solicitors, News
Tags:
BHW Solicitors
,
Commercial Law
,
Commercial Property
,
Company Law
,
Dispute Resolution
,
Employment Law