BHW Solicitors were proud to sponsor last month's Client Interviewing Competition organised by the De Montfort University Law School to help its students learn important skills for a career in law.
The contest aims to test not only students' knowledge of law but also their interviewing skills – a crucial skill for any solicitor.
Students are asked to take part in a mock interview with a new client and use their interviewing skills and legal knowledge to advise the client. This year's subject was commercial contract law.
Jade Lee and Charley Guile beat Alicia Yorke and Thomas Wyatt in the finals, judged by Annie Britton, Faculty Skills Co-ordinator; Sheree Peaple, Head of Leicester De Montfort Law School and Bev Merrell, Commercial Property Partner at BHW Solicitors.
Jade said: "We didn't expect to win, but we are really pleased."
Charley added: "This is an area I want to work in and it's very competitive so doing this competition is great practice."
Alicia said: "It's a really useful skill to have. Signing up for this competition has given me a head start for when we come to study it later."
"Client interviewing is a really transferable skill and one which employers will look for," said Thomas.
Sheree Peaple said: "They have really picked up practical skills they need if they want to become practising lawyers. It helps their confidence and it fits into employability skills which we are trying to instil."
Beverley Merrell said: "Being able to effectively interview a client is very important. What they are working on today will stand them in good stead for their Legal Practice Course."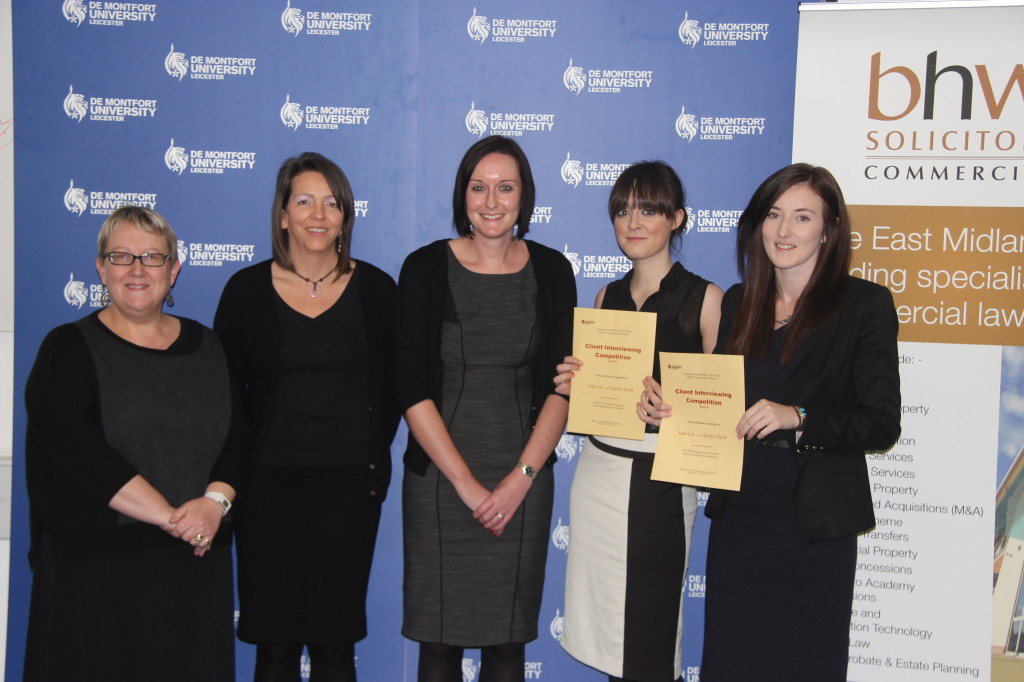 Above: Sheree Peaple, Annie Britton, Beverley Merrell, Jade Lee andCharley Guile.