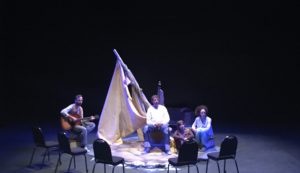 Three BHW staff were in attendance to watch a fabulous performance by the Bamboozle Theatre Company of 'Storm', a production inspired by Shakespeare's The Tempest, designed for children and young people who are on the autistic spectrum.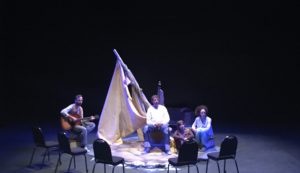 Taking place on Tuesday 27th August at the Curve Theatre in Leicester, Kimberly Marshall, Lauren Randall and Rebecca Moore from BHW's residential conveyancing division went along to support Bamboozle's Showcase evening.
Storm tells the story of the magician Prospero, his apprentice Ariel and the creature Caliban. Using a limited amount of Shakespeare's language, Storm tells a dramatic story of the sea, ships, islands and magic.
The evening started with a chance to network with other supporting businesses, local charities and families of Bamboozle performers and volunteers. The inspiring 45-minute presentation saw the children performers and assistants act out an enchanting tail. The evening ended with a drink's reception after the show.
Storm has toured UK schools, featured at the Edinburgh International Children's Festival and toured to Shanghai and Egypt. A Chinese version of the show is currently in rehearsal at Shanghai Children's Art Theatre.
The Bamboozle Theatre Company was founded in 1994 and delivers magical, memorable, multi-sensory experiences for children and young people with moderate to profound learning difficulties, as well as those with emotional and behavioural difficulties.