On Sunday the 22nd October 2017, Jack Khurana, Partner and Head of Dispute Resolution and Employment at BHW Solicitors, together with Claire Bell, Solicitor and Practice Manager at BHW Solicitors attended the prestigious High Sheriff's Justice Service in the magnificent surroundings of Leicester Cathedral. The Service was jointly hosted by the Dean of Leicester, the Very Reverend David Monteith and The High Sheriff of Leicestershire, Tim Maxted.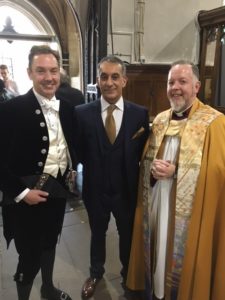 The service was extremely well attended by local dignitaries, including the Lord Mayor of Leicestershire, the Assistant Chief Constable, and the Chairman of the County Council, as well as the High Sheriffs of Lincolnshire, Derbyshire, Warwickshire, Nottinghamshire and Rutland.
The office of Sheriff is over a thousand years old and is a Royal appointment. The principal duties of the High Sheriff are to support the Lord Lieutenant on royal visits, and to offer support and hospitality to visiting High Court Judges. It was therefore no coincidence that the service was attended by local District Judges, Crown Court Judges and members of the House of Lords.
After hymns, sung beautifully by the resident choir , and some thought provoking readings, the service ended with tea and cake and the chance to chat with the High Sheriff and the Dean. Jack also took the opportunity to view the impressive tomb where King Richard III was reburied in 2015.